Casual Trip! Trial Course after visiting Abeno Harukas
About Sightseeing Course

For example, Sumiyoshi-taisha or Honganji Sakai Betsuin (Temple) are famous tourist destinations, which you should not miss.

I recommend to those who wants to enjoy the Hankai, and know the history deeply. It is a good way to you to travel around the Hankai area and have sightseeing with Hankai Tramway.

Massan is a Japanese television drama series, broadcast daily on NHK. I recommend you can take a look the place where Masataka Taketsuru and his wife Jessie Roberta Rita Cowan full in love. You can easily enjoy from Tennoji.





"Sumiyoshizukuri" is the famous architectural style after Ise-jingu Shrine and Izumo Taisha Shrine and there are four main building.
Although it has been kept Shikinen-Sengu tradition, the deity is transferred to new building during the great reconstruction.
Although The Emperor Jingu had enshrined Sumiyoshi Sanjin, nowadays, the Emperor Jingu became enshrined as a deity.
This shrine has lasted for more than 1800 years and it is famous for its deep historical shrine among inside and outside of Osaka.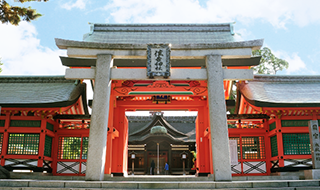 Here, Tezukayama area, Mr. and Mrs. Masataka Takezuru has lived before, has a lot of retro buildings along the line of Hankai Tramway.
When you step into this area, you might feel like time traveling or time stopped in spite of not so far from busy town such as Abeno or Tennoji.
Since there are some coffee shops around the area, you can have a rest anytime and anywhere.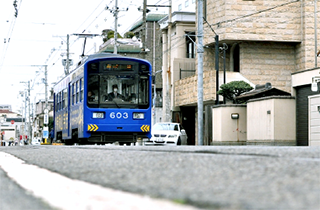 Tezukayama-4chome is very silent town.
This area is famous for high-class residential area, but you feel warm atmosphere filled with humanity.
There are lots of charming shops, café, fruits shops, boutique stores and stamp shops.
They are lined like drama setting with their nostalgic atmosphere.
Going forward along the line, you can find Mandaiike Park where is the local walking course.
The landmark is the big fountain and trees. The name "Mandaiike Park" might be come from Shotoku Taishi.
In spring, sakura (cherry blossom in English) is come out and it is famous for local Japanese, so you can enjoy watching sakura (cherry blossom) around the pond.

After visiting the pond, you can find Tezukayama Post Office which is famous for its retro building.
On the other hand, there is a historical warehouse. How dramatic it is!

There are sign boards of Tezukayama Tomb, Abeno Shrine and Kumano-kaido street near the "Nanko street" where is in front of Himematsu station.
Main spots where you can know history of Osaka deeply, are getting together in here, Tezukayama area.
Not only first-timer but also repeater can find something new!
When you visit here, we recommend to have a rest in coffee shop.