About the Discount Tickets
About the Discount Tickets
All line 1 day free pass Take Take ticket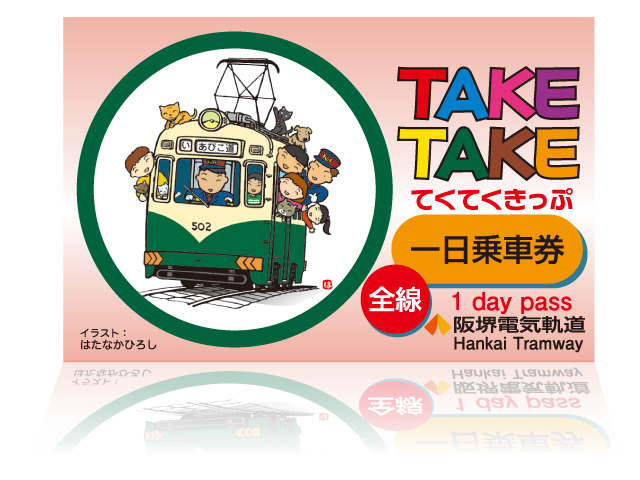 Scratch type Adults 600JPY・Children 300JPY

Hankai all line 1 day free pass
You can visit shops along the road line for business or leisure.
Valid section
Hankai Tramway:all line
Valid period
Free use of public transport is only for the used day. (The pass is not valid for a full 24 hours)
How to use
Please scratch the year, month and day of the riding date and show it to the staff.

※If you scratch the year, month and day with more than two place, it would be judged invalid.

Place of purchase
Hankai Tramway: Tickets office of Tennoji-Ekimae Station, Abikomichi station, Hamadera-Ekimae Station
Tennōji-Ekimae Station
Head office and transportation area (Abikomichi)

※You can purchase Take Take Ticket in the tram.
※Hamadera-Ekimae Station Ticket Office is closed on Sunday and holidays.

Others

※This ticket is valid for one person.
※This ticket will not be collected at the end of riding. (If you do not need it, please give it to the staff)
※According to exchanges and refunds of the ticket, we only accept the ticket without scratching or by the day before scratched date. 220 JPY will be required for refunding.
※If you lost the ticket, it will not be reissued.
※The ticket is no refund after starting to use no matter train services are suspended.
※If the ticket is used improperly, it will be collected as invalid and the fare or the extra fare will be charged.
Ride, know and enjoy the Hankai Tramway! Let's find out new histories and cultures hidden in Osaka!
For example, Sumiyoshi-taisha or Honganji Sakai Betsuin (Temple) are famous tourist destinations, which you should not miss.

I recommend to those who wants to enjoy the Hankai, and know the history deeply. It is a good way to you to travel around the Hankai area and have sightseeing with Hankai Tramway.

Massan is a Japanese television drama series, broadcast daily on NHK. I recommend you can take a look the place where Masataka Taketsuru and his wife Jessie Roberta Rita Cowan full in love. You can easily enjoy from Tennoji.
Hankai Tramway Co., Ltd. Sales Department
Email: haninfo@hankai.co.jp